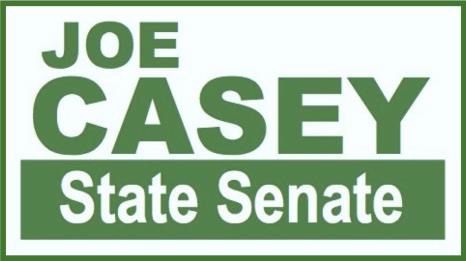 Joe Casey is a member of the New Hampshire AFL-CIO Executive Council and former President of the New Hampshire Building and Construction Trades Council running for the open seat in State Senate District 6, which includes the cities of Rochester and Farmington. Joe has worked hard his entire life to represent the interests of working men and women in New Hampshire and he needs our help to continue that good work. Knocking doors, calling voters, and participating in visibility are easy ways you can help Joe win. Every vote will count in this district.
Just last week the New Hampshire GOP sent out a negative mailer about Joe that stated he was the embodiment of "special interest" in government. Now more than ever, Joe needs our help. Click here to help Joe get his message out to New Hampshire working families!
Joe is holding a Day of Action on Saturday, October 29th in Rochester and he needs the help of the New Hampshire Labor Community. We hope that you can join us to make sure that New Hampshire working families in District 6 get the representation they deserve. Details for the event are as follows:
WHAT: JOE CASEY DAY OF ACTION

WHEN: Saturday, October 29th: 10am Rally | 10:30am Canvas and Phone Bank | 11am Visibility & March | 1pm Lunch
WHERE: Spaulding High School Cafeteria, 130 Wakefield St, Rochester, NH 03867
RSVP Online at joecaseynh.com/action
Come and stand is solidarity with the New Hampshire Labor community as we work to get one of our own elected to the New Hampshire State Senate.
For more information or to RSVP please contact:
Cameron Koob, Campaign Manager, Joe Casey for State Senate
Email: cameron@joecaseynh.com
Phone: (603) 931-2030