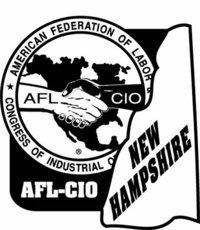 Happy first in the nation primary! Not only is this your opportunity to take part in New Hampshire's historical first in the nation primary, it is the launch of the New Hampshire AFL-CIO's new website. We are proud to launch this new labor platform in the hope that it will further unite us and provide an outlet for communication between New Hampshire's working families.
The website will feature New Hampshire AFL-CIO Labor News
Updates and will enable members to keep up to speed on issues impacting working
families in New Hampshire, and around the country. Additionally, visitors can
comment and discuss labor topics as they develop.
Our new website will also educate workers on how to organize their workplace and advocate for their fellow workers.
Make sure to sign up for New Hampshire AFL-CIO labor updates to stay up to date with labor and legislative events. Welcome to the new home of Granite State Solidarity!