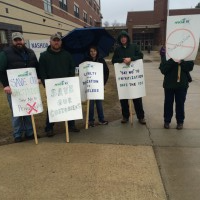 Yesterday members of the Nashua School Custodian Union stood outside, in the rain to advocate for fair contract practices. Late in 2015, the Nashua Board of Education voted to terminate the contract with the custodial union, Local 365/Council 93 AFSCME, and to issue a request for proposals for a private cleaning service to replace the custodians in the district as of July 1, 2016.
The members of the Nashua School Custodian Union are more than just custodians, they are friends to the students and the staff throughout the school district. They take pride in their work, and the role they have taken in the development of our children's education.
By voting to replace the members of the Nashua School Custodians union with a private cleaning service, the Board of Education has done a disservice to the children and the teachers of Nashua. The Board of Education seeks to bring in strangers who have no connection with Nashua, or loyalty to its residents. When profit is the main driver for performance, there is less incentive to do a good job, and more incentive to simply do the job.
The New Hampshire AFL-CIO praises the members of Local 365/Council 93 AFSCME who stood in the rain yesterday to have their voices heard and strongly believes that Nashua schools deserve the kind of dedication that these members have to their community.
This struggle is not over yet. Remember, you support your community by supporting your Nashua School Custodians.