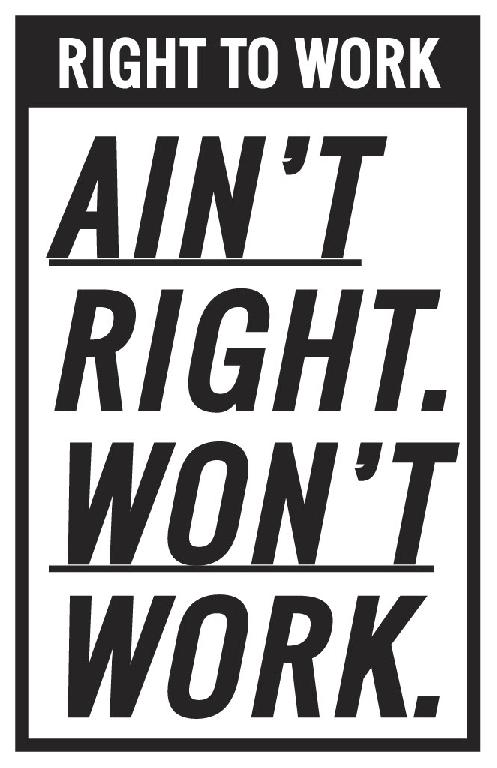 What New Hampshire Working Families Should Know
About So-Called "Right to Work"
So-called "Right to Work" isn't what it seems. It is a confusing, complicated and controversial proposal that is wrong for workers and their families.

Proponents of  

"Right to Work"say that it will expand workplace freedom. "Right to Work" is political overreach at its worst. Politicians shouldn't get between or interfere with agreements made between employers and their employees. Instead, politicians should respect those agreements and focus on real priorities like creating good jobs, investing in education, and lowering energy rates.

Under current state and federal law, no worker can be forced to join a union or to pay union dues. Moreover, it is illegal for union members to pressure non-union members to join.

So-called

"Right to Work" legislation is not a job creation or economic development effort – it is specifically designed to weaken collective bargaining rights for working families. Over 60% of New Hampshire residents support workers' rights to collectively bargain for wages, benefits, and better working conditions.

The effort to make New Hampshire the next

"Right to Work" state is politically motivated and largely driven by out-of-state corporate special interest groups like Americans for Prosperity and the National Right to Work Committee, and is not a result of problems facing Granite State businesses or workers.

There is a long history of bi-partisan opposition to passing

"Right to Work"

 in New Hampshire. In 2012, over 40 Republican State Representatives joined Democrats in voting to uphold the Governor's veto of 

"Right to Work." In March 2015, bi-partisan opposition in the State Senate killed a so-called "Right to Work" bill in a floor vote.

Granite State business experts agree that so-called

"Right to Work" legislation does not address the factors that are most important in business location descisions, and that it will not create quality jobs in New Hampshire

 

(Sig Sauer is sending new jobs to Arkansas instead of New Hampshire because of the high cost of energy in our state, not a lack of 

"Right to Work" legislation)

.
The Facts
Lower Wages
On average workers in states with "Right to Work" laws earn $6,109 (12.1%) a year less than workers in other states ($44,401 comparted with $50,511).

Twelve of the fourteen states with the worst pay gap between men and women are "Right to Work" states.

Of the ten states with the lowest minimum wages, eight are "Right to Work" states.
Less Investment in Education
States with "Right to Work" laws spend 32.5% less per pupil on elementary and secondary education than other states.
Unions Improve Living Standards. "Right to Work" Laws Don't
Overall, union members earn 26.3% ($204) more per week than non-union workers. Hispanic union members earn 47.1% ($276) more each week than non-union Hispanic workers and African Americans workers earn 29.7% more each week if they are union members.

Some 79% of union workers participate in job-provided health insurance, compared with 49% of non-union workers.

75% of union workers participate in guarenteed (defined-benefit) retirement plans, compared to just 15% of non-union workers.
Higher Workplace Fatality Rates
The rate of workplace deaths is 49% higher in states with "Right to Work" laws, according to data from the Bureau of Labor Statistics. 
WANT TO FIND YOUR LEGISLATOR TO CONTACT THEM AND LET THEM KNOW THAT "RIGHT TO WORK" IS WRONG FOR NEW HAMPSHIRE WORKING FAMILIES? CLICK HERE!